After successfully publishing six books with Amazon/KDP, my book about corona-fascism was just blocked by Amazon a few hours after I submitted it for review. I wonder why!!
Previously, I have published books with Amazon about secession, gun control, and many other controversial topics. To my pleasant surprise, the left-leaning goliath published them all without any issues. 
Amazon has demonstrated that they are willing to publish many controversial books, but they are not willing to be involved in the two most heinous types of crimes in modern society: Bigotry and Corona-skepticism. 
A few weeks ago, Amazon removed a book about transgenderism from its website, causing backlash by conservative senators such as Marco Rubio and Josh Hawley. The book, titled 'When Harry Became Sally: Responding to the Transgender Moment', apparently frames gender dysphoria a mental illness. All major medical associations and doctors did the same until pressured to do otherwise very recently. To their credit, Barnes & Noble still lists Anderson's book on their website.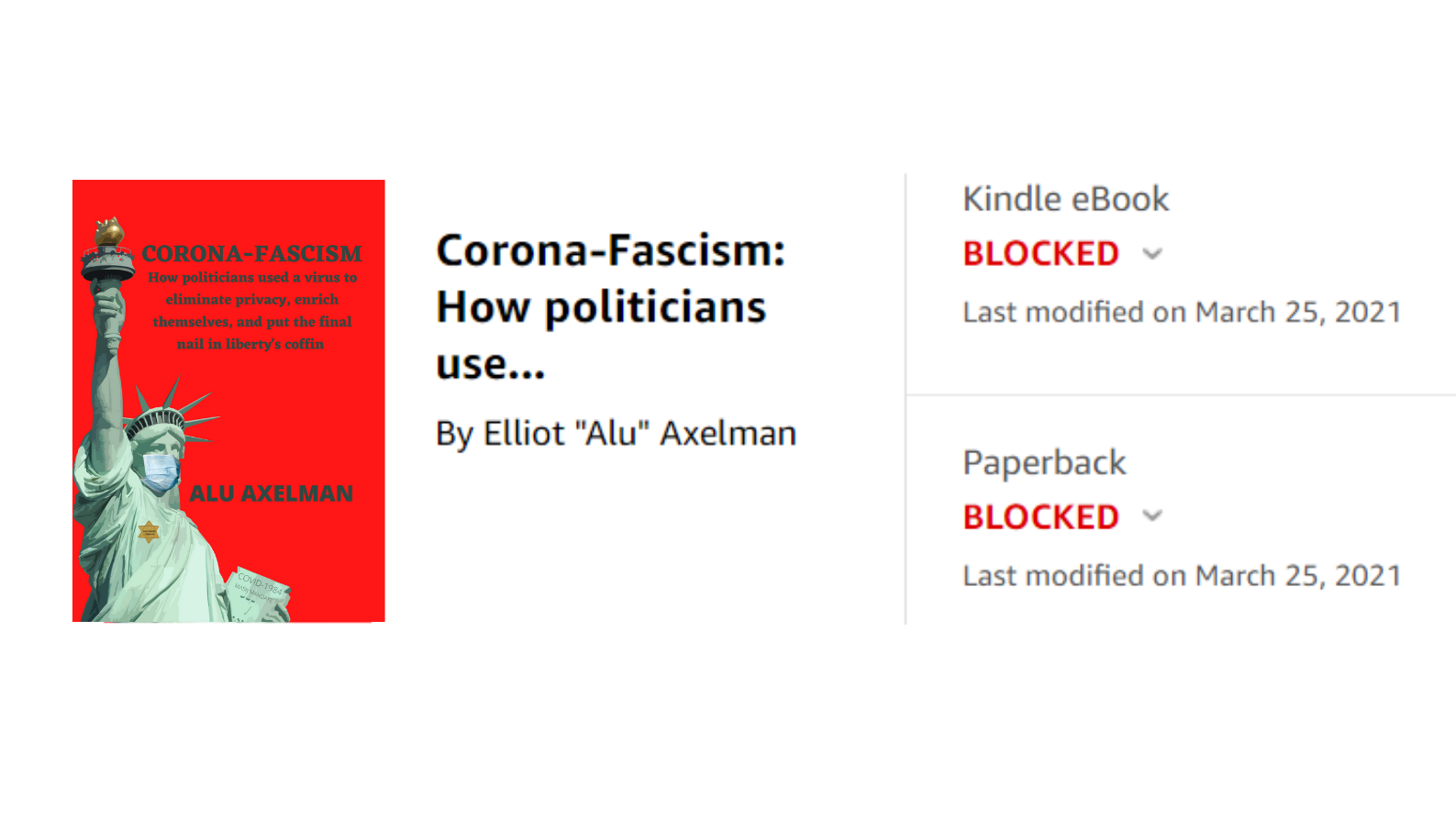 A few hours after submitting my book to Amazon, I checked my author page on KDP and found the word 'BLOCKED' in big, red letters next to my newest submission. Unlike with previous books which needed to be reviewed (always for some mistake in their AI flagging an issue), this one is totally blocked, cannot be edited or re-submitted, and there is no explanation. Of course, I do know why the book was blocked from publishing. The title is 'CORONA-FASCISM: How politicians used a virus to eliminate privacy, enrich themselves, and put the final nail in liberty's coffin'.
Where do I go from here?
While Amazon was by far the quickest, easiest, and cheapest publisher, I am already in contact with multiple publishers and hope to release my book very soon.
If you know of any publishers who support freedom – or at least open debate – please let me know!
The post Amazon Does Not Want You To Question Corona-fascism appeared first on The Liberty Block.